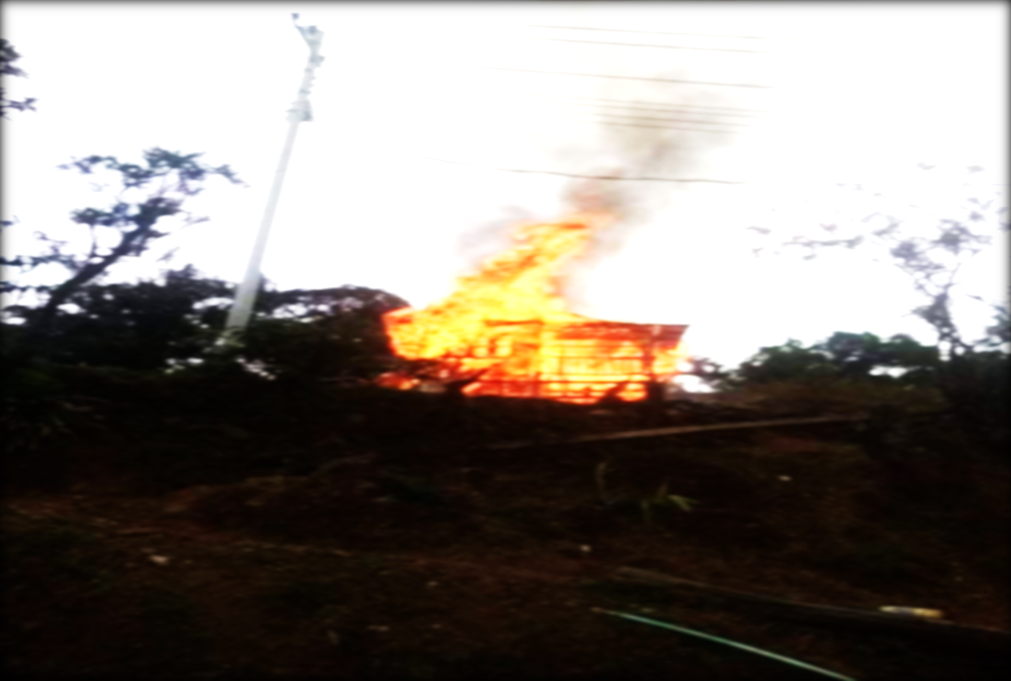 November 16, 2021, Comment off
Thlanrawn: Falam township village Myanmar junta troops burned and destroyed
Introduction
Thlanrawn village is located in Falam Township, situated next to the main road of Falam-Hakha Road. The new village of Thlanrawn has approximately 29 houses, the old village has roughly 71 houses. The village's total population is around 500 people. Since July, the military junta troops have invaded the village three times, causing every villager to flee to nearby villages or to Falam town for their safety.
Under the name of "Operation Anawrahta (အနော်ရထာစစ်ဆင်ရေး)", the military junta moved its troops, doing clearance operations in Chin State. As part of its operations, the troops entered Chin villages along the way, burglarizing homes, burning and destroying houses and property systematically.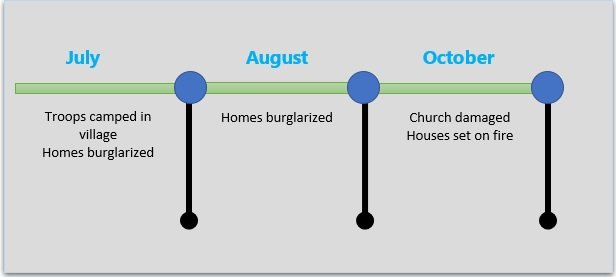 Incursion by the military council troops
On 21 July, the military council troops arrived at the new village of Thlanrawn and camped for one night. During their encampment, the military council stole villagers' clothes and belongings from their homes such as warm clothes, rice, pigs, and chickens. Furthermore, they threatened villagers with their weapons which eventually forced the villagers to flee their homes to the forest. The villagers were able to return to the village only after the Burmese military council troops left the village.
From 1st to 15th August, another offensive by the military council took place in Falam Township on the Falam-Hakha road as the fighting resumed. As a result of the fight, almost the entire village of Thlanrawn had to flee once more.
In October, heavy fighting erupted in Chin State under the "Anawrahta Operation" by the military council. The junta had set up camps in villages along the route of their march. Camping in the village, burglary and arson were carried out to intimidate the civilians.
On 14th October, the military council troops marching towards Hakha from Falam township invaded the new village of Thlanrawn and set houses ablaze. Around 14 houses, including the pastor's house, were burnt down. Not only did they break into homes, but they also stole and killed domestic animals.
On 25th October, another military convoy returning from Hakha to Falam, re-entered the new village of Thlanrawn and set fire to three more houses. Thlanrawn Baptist Church's pews and Hymns were also destroyed. The value of damages was estimated at over 158.9 million Myanmar Kyats.

List of military council thefts between July and August, 2021
Sr. No
Particular
Quantity
Value
Total loss value
1
TV
4
1,150,000
2
Outset (TV-skynet)
3
85,000
3
A bag of Rice
17
50,000
850,000
4
Blanket
47
20,000
940,000
5
Bedding/Blanket
22
10,000
220,000
6
Chicken
165
10,000
1,650,000
7
Computer
1
350,000
350,000
8
Camera
1
250,000
250,000
9
Oil
21
5,000
105,000
10
Clothes
31
346,000
11
Retail Shop
5,400,400
12
Small soungbox
3
87,000
13
Pig
1
200,000
200,000
14
Motorcycle Repair Fee
1
200,000
200,000
15
Shoes/Other
11
170,000
16
carpentry tools
19
15,000
285,000
17
Diesel
6
30,000
180,000
18
Phone
1
150,000
150,000
19
Cabinet
3
450,000
20
Pots and pans: dozens of porcelain plates
3
66,000
21
Cow
3
950,000
22
Rice cooker
10
30,000
300,000
23
Suitcase
1
50,000
50,000
24
Ensure
1
50,000
50,000
25
Large cooking pot
7
15,000
105,000
26
Blood pressure monitor
1
50,000
50,000
27
Waving Fabric
3
120,00
360,000
28
Waving-Material
6
20,000
120,000
29
Money
1,321,000
30
Pillow
6
6,000
36,000
31
Mat
10
10,000
100,000
32
Glasses
1
100,000
100,000
33
Clothes/Pants
15
235,000
Grand total
16,911,000
Estimate value of damages from fires in October, 2021
No
Head of Household
MMK
Remark
1
Pa Van Thawm Lian
10,771,000
14-Oct-21
2
Nu Sui Nei Iang
8,455,000
14-Oct-21
3
Pa Than Sum
5,478,000
14-Oct-21
4
Pa Hram Ngerh
14,470,000
14-Oct-21
5
Pastor Biak Thluai (quarter)
13,066,000
14-Oct-21
6
Pastor Biak Thluai
2,036,500
14-Oct-21
7
Pa Nawl Kip Thang
7,018,000
14-Oct-21
8
Pa Mawng Uk Thang
8,205,000
14-Oct-21
9
Pa Mang Or
7,825,000
14-Oct-21
10
Nu Phun Thim
5,615,000
14-Oct-21
11
Pa Van Thawng Uk
5,345,000
14-Oct-21
12
Nu Hrang Kip Hliang
11,115,000
14-Oct-21
13
Pa San Mang
21,990,000
14-Oct-21
14
Pa Bawi Lian Nawl
9,716,000
14-Oct-21
15
Pa Dawt Hlei Cung
9,176,000
25-Oct-21
16
Pa Biak San Ceu
4,715,000
25-Oct-21
17
Pa Tawk Nei Zul
5,025,000
25-Oct-21
 TOTAL
150,021,500
Current situation and needs
Due to the arson of the military council, almost all the villages were destroyed.
Now there is no one living in the new village of Thlanrawn . Currently, they're living in schools and the school staffs' quarters of the old Thlanrawn village. Some families who have fled to Falam town have returned to the old Thlanrawn village. A few IDPs were infected with Covid-19.
In conclusion, the villagers of Thlanrawn had to flee the village three times due to the military invasions. Burglary, house burning, shooting in the village with heavy weapons is a deliberate act committed by the military council against civilians.
The actions of the military council not only violate the provisions of the domestic criminal law, but also force civilians to leave their homes and are crimes against humanity.