September 16, 2022, Comment off
Six new teachers appointed for refugee children in Zokhawthar Village
ICA, along with its partner organizations, namely Chin Baptist Association North America (CBANA), and Mizo Students Union (MSU), started supporting six teachers in Zokhawthar village, located in Mizoram State, India. This initiative started in June 2022, aiming to assist schools attended by Myanmar refugee students.
Among these teachers, one has been assigned to the Primary School (1), another two to the Middle School and English Medium School, and the remaining three to Primary School (2). These schools were identified as having the greatest need for teachers. The newly appointed teachers have shown great dedication in their teaching roles.
The allocation of teachers to these schools was based on reports from village elders regarding the shortage of educators. The appointment of teachers from their own country, who could communicate in their language, was warmly welcomed by both the village and the refugee students. The students were thrilled and satisfied to have the opportunity to learn from teachers who understood their language and culture.
At the onset of the Covid-19 pandemic in Myanmar in April 2020, the education system in affected areas gradually came to a halt. Within that year, education across all levels, from basic to higher education, was suspended nationwide. Despite the Myanmar government's efforts to reopen schools, the country faced setbacks due to the military seizing power on February 1, 2021. This led to widespread public uprisings and armed conflicts, further disrupting the education system.
In Chin State, clashes between local resistance forces and the Myanmar military erupted in various locations. As a result, residential areas became unsafe for civilians, leading to an increase in the number of displaced people. Some sought refuge in unaffected local areas, while others had to flee to neighboring countries like India and Thailand. A significant number of individuals sought refuge in Mizoram State, India, which shares a border with Chin State. It is estimated that around 45,000 to 50,000 displaced civilians have sought shelter in Mizoram State.
Among these refugees, approximately 738 families, totaling around 3,800 individuals, have found shelter in Zokhawthar village, which has only about 600 houses. Many of these families have children who have already missed two years of education. Public schools in Mizoram State reopened on April 4, 2022, at the beginning of the new academic year, including in Zokhawthar village located in Champhai district.
Zokhawthar village is home to nine regular schools: St. Joseph's School, Presbyterian School, Higher School, Middle School, RMSA Secondary School, English Medium School, Govt. Primary School -1, Govt. Primary School -2, and Baptist School. These schools accommodate both local students and refugee students, with a total student population of 2,744. This includes 1,332 local students and 1,412 refugee students who have lost the opportunity to study in Myanmar. Additionally, there is a night school run by PSRB (Projects to Support Refugees from Burma).
The number of refugee students now exceeds the number of local students. As a result, the schools have faced numerous challenges, such as a shortage of resources, including teachers, insufficient cooking utensils for providing lunches, limited classrooms, teaching materials, drinking water, and inadequate toilet facilities.
Refugee students face various hardships as they attend schools in a foreign country, including difficulties in paying school fees, challenges in adapting to new teaching methods and subjects, and sometimes being placed in lower grades. The influx of students greater than the local student population also poses a significant burden on the village. Teacher shortage is one of the many difficulties encountered.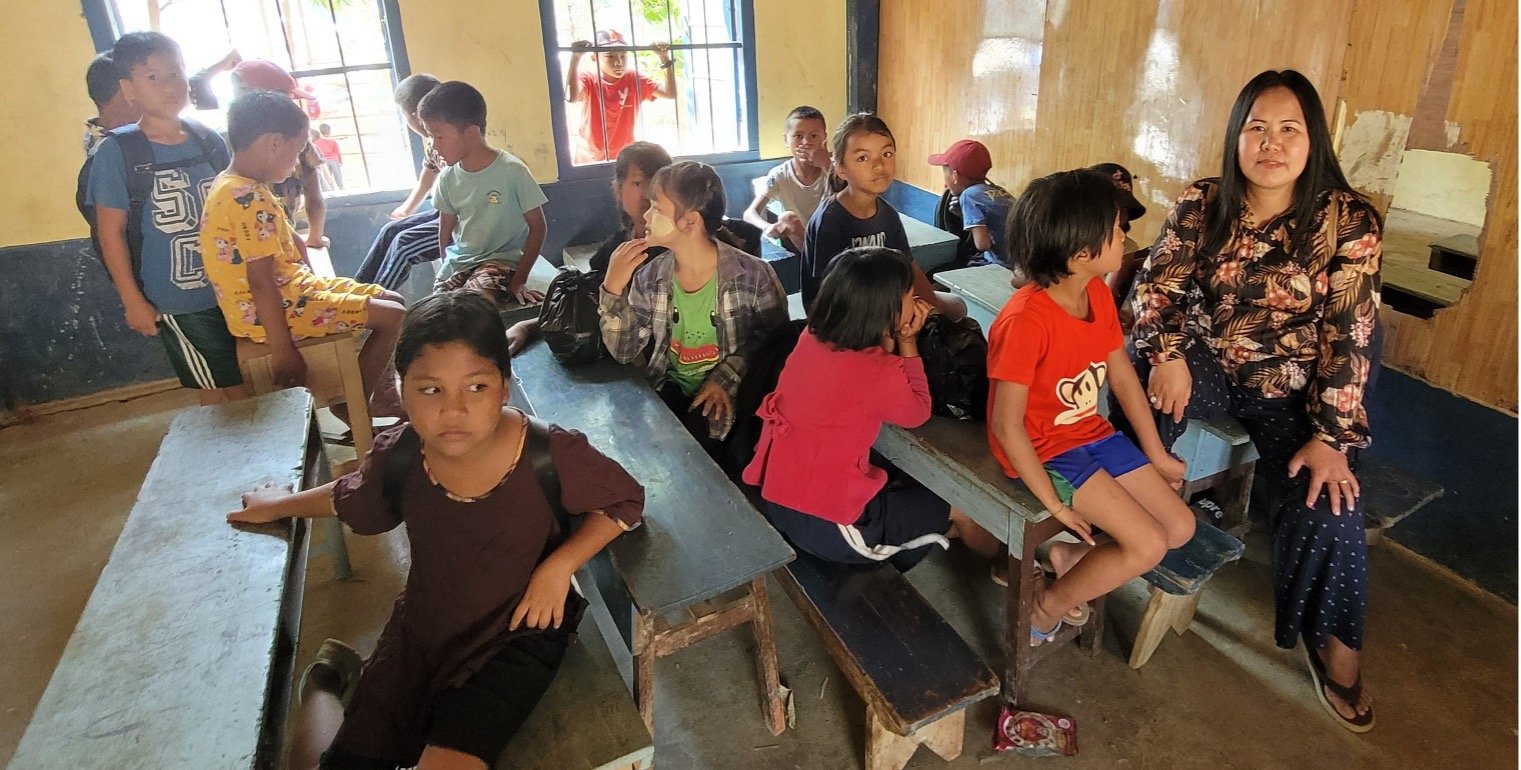 The Institute of Chin Affairs (ICA), a nonprofit organization, is working diligently to address the needs of the refugees. ICA has been providing healthcare assistance to those who have been displaced from their homes and is also now striving to support education.
ICA and its partner organizations have initiated the support of six teachers in Zokhawthar village, although the current assistance is insufficient. This endeavor has been made possible through the generous donations of supporters, and we encourage you to continue aiding and donating to your fellow citizens in distress. Many other locations and villages housing Burmese refugees continue to face various challenges in the education sector. For those interested in donating, please reach out to:
Mai Lucy  (Australia) : (Contact Ph. + 61 431 102 837)
Van Sui San (India) : (Contact Ph. +91 923 313 6027)
or send an email to mrc_he@chinaffairs.org.