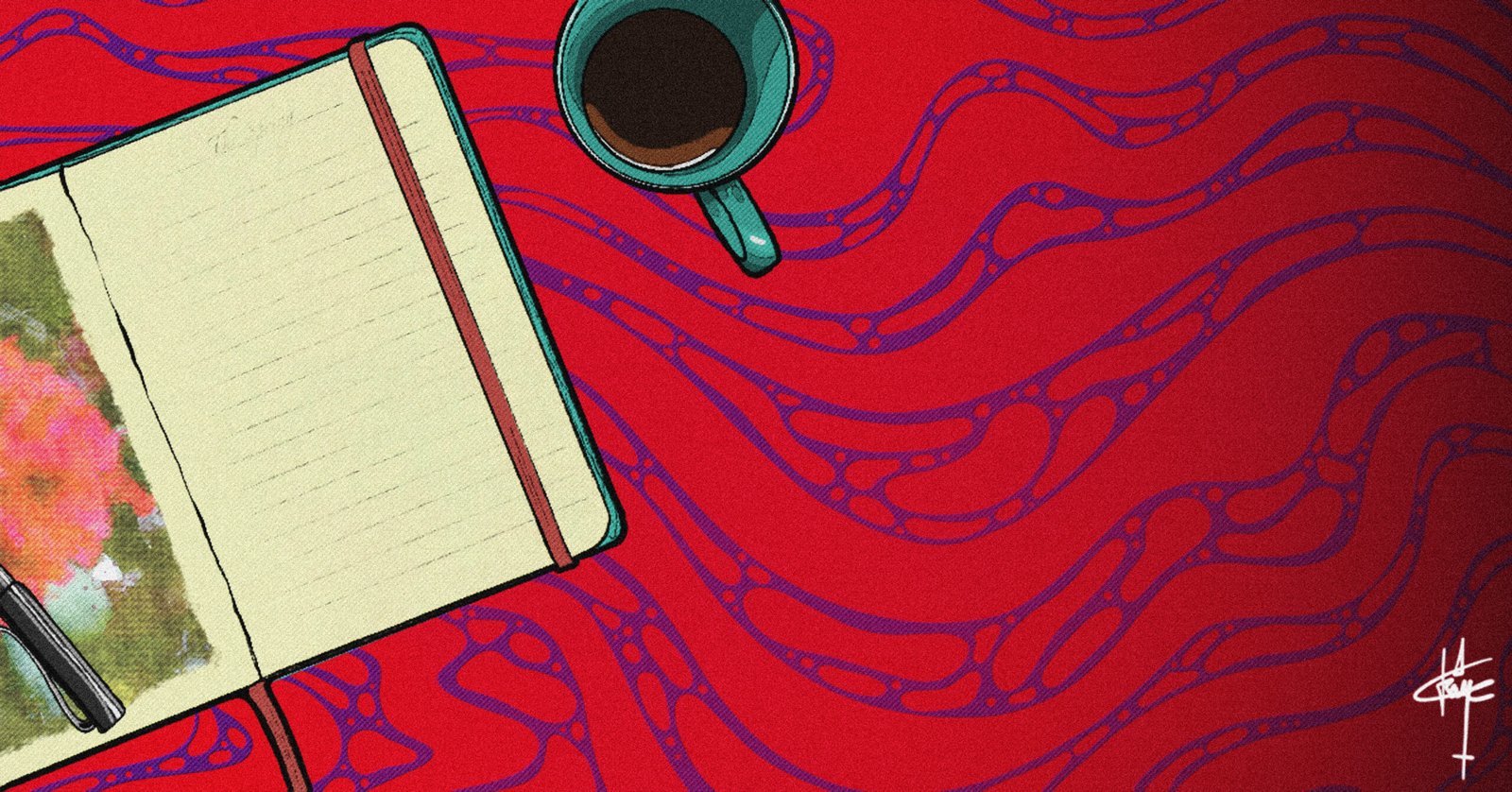 November 3, 2023, Comment off
Spring Diary
Zoheisa (pseudonym) documents how her way of life changed after participating in the Civil Disobedience Movement (CDM) and her resilience as a refugee in Mizoram.
This post was originally published by Tea Cycle on July 3, 2023
I used to be a university teacher. As a teacher, I was proud of my work as a mentor to students, our young gems for the future. I highly valued my job, and I'd devoted myself to teaching as I had few skills for another profession. As my husband was an employee at a private bank, we had to manage living on a fixed income since we were both salary earners. We've brought up our children to be content with life, doing our best to make a happy family, although it was not fully provided. But my dreams were shattered one morning in spring.
That day was 1st February 2021. My life, steady until that point, was struck by an immense change. On that day, the military announced a state of emergency and staged an illogical coup. I felt like a motherless child, like someone who had lost her future. It felt like I had travelled back in time. I had no motivation to work, and I felt even more lonely when the internet connections were cut off. Nobody could tell what would happen next or what had happened. People would voice their random ideas, and the department, the school, the town, and the entire country became silent with people deeply immersed in their own thoughts.
The movement started in Mandalay. Two days after the military coup, motorbike riders expressed their distress by honking on the streets. The whole street and residential quarters were noisy with honking sounds. Later, a silent strike was staged with a three-finger salute. Posters bearing the images of the three-finger salute spread throughout the country—it was not long before we heard the frustrated voices of people protesting the dictatorship.
Educators and staff from universities across the country also took part in protests by holding up posters of three-finger salutes. The once silent university came alive without the orchestrated but simultaneous chanting of slogans. At the same time, universities were closed, but staff continued to rotate teaching work due to the high rates of COVID-19 infections. The presence of teaching staff that day was a clear sign of how much civil servants loathed the dictatorship.
Multiple ethnic groups, students, and civil servants participated in various anti-dictatorship activities. People resented the unjust acts committed by the authoritarian government, especially since the time for a newly elected government was just an arms-length away.
Despite these challenges, our university's strike column marched daily. I could not participate in these marches as I had to take care of my daughter's security, but my inability to join the marches gave me a guilty conscience. I felt like I was being unfaithful to the movement. I tried to counteract my guilty conscience by banging pots and pans harder at 8pm, a symbolic act to drive out the evil dictators.
Continuing work as an educator became a big challenge. It took time for me to decide about what to do, since I've always been a responsible person who highly valued my work. I discussed it with my colleagues, friends, family, and parents. My supervisor explained the pros and cons of standing bravely for the truth. As they did, the State Counsellor's quote, "people matter," echoed in my mind.  My husband supported me in resisting the dictatorship within my own capacity. It was with such support that I was able to make a strong decision. From the 8th of February, I decided to join the CDM movement and withhold my labour—proudly contributing to the revolution alongside my colleagues at the university.
Three weeks after the coup, the CDMers' personal security was threatened when the military forces and police entered our university under the pretext of security. On 6th March, a month after we commenced our refusal to work with the slogan "don't go to the office but struggle for freedom", I went to my parents' place with my daughter. My son and his father stayed behind in Yangon because of their respective responsibilities. About 10 days after I reached my parents' village, a close friend and colleague informed me that she was going back to the office and asked me if I wished to recommence my duties. If so, she would submit my name. Soon after, my supervisor whom I so revered informed me that they would be resuming their duties out of fear for their security and arrest. We discussed with our colleagues how we could support them. We will not surrender, and we will fight till the end.
At the end of April 2021, I received news that my nephew, a young university student had been shot dead by military forces the night before.  The sad news broke me. On that day, Tedim was completely silent. The soldiers, whose duty was to protect the life and property of the people, were brutally killing innocent people for no reason. I prayed that such incidents would not take place again for anyone—but my prayers were not answered. Many people's lives were sacrificed. If we did not resist this horrible system, then who would?
In May 2021, I was expelled from my post for standing for the truth. It was a profession that I invested my heart and soul in for several decades, and I felt as though my arms and legs had been amputated. Moreover, the income source to support my family was now cut off. Life became very lonely. It was difficult to detach myself from work, but I had no reason to defend it any longer. I believed that Eternal God would prepare the best for me.
I was satisfied that I had been able to take refuge with my parents and care for my 80-year-old father. I found strength in the understanding and support from my parents and siblings. Whenever I had a chance, I went to my father's farm and nurtured the plants, ploughed the ground with an iron hoe, or cut the trees with a knife. I learned how to make use of the same hands I once used only to hold pencils and pens. Perhaps this was a blessing in disguise—I now had a chance to experience my community's traditions and customs.
Many people from my village did not share my ideas. Few civil servants became CDMers. They believed they had to mind their own business regardless of the government. They continued to show up for the civil servants' recruiting exams held by the military council and were proud of their achievements when appointed. They thought they were doing great, but it was very uncomfortable for me to live in such an environment.
My daughter would always encourage me—unhappy from trying to adapt to a new place—with positive motivation like "Mom…don't be depressed. Our revolution will win."
Compared to my daughter's moral support, I felt sorry about the lack of understanding in society. However, I was proud of my daughter because she knew what was right and what was wrong. Her sacrifice and willingness to accept a meagre way of living was much greater than mine. My husband's support also gave me power. He would repeatedly tell my daughter, "Your mother is a revolutionary heroine. We should always be proud of Mom."
Maybe it was the emotional dejection that lowered our immunity.  At the end of May 2021, my entire family was infected by COVID-19. We had to pull ourselves together to prevent us from falling to pieces. I was grateful for the fellow nurse CDMer who came to our house and treated us. Her words of consolation at that time of sickness and depression energized us.
A year after returning to my native village, the community criticized me in different ways. The most annoying question I got was, "Are you divorced from your husband?" Because I was a CDMer, I did not receive any salary. They would heartlessly tell me that the success of our revolution would not be achieved in any way, and that I should go back to work.
Even my close relatives blamed me. On the one hand, the arrest of CDMers increased every day. Though imprecisely, security became a concern. Over time, some schools in the village reopened, but my daughter had no desire to attend the school run by the military council. It was impossible to pursue online education either since the internet remained cut off.
Meanwhile, I was able to meet and accompany a Catholic priest who came back to visit the village from Mizoram, India. In this way, I reached Buarpui village in Mizoram state in early April 2022. My daughter came with me and was able to continue her schooling, but she faced various challenges due to the language barrier, an unfamiliar school syllabus in Hindi, Mizo, and Lai languages, and culture shock. I felt guilty.
For work, I worked in the kitchen of a hostel as an assistant to the chef. My days were spent peeling potatoes, picking rice grains, and washing dishes. I was exhausted both mentally and physically. I missed Myanmar and the life I enjoyed in the past—but I had to control my homesickness. I reminded myself not to forget that my life was where it was supposed to be, not where I wanted to be. The challenges as a CDMer refugee were hard. I prayed to God all the time, wishing to go back to where I deserved and wished to be.
Through a friend, I learned about a call for 5 Research Fellowships from the Institute of Chin Affairs (ICA). I was interested, and I started to prepare for the application without any prior experience and with much difficulty. As I worked,  I jotted down my thoughts and sought advice from my experienced friends. I sent my application before the deadline on the 31st of August.
When the decision letter came on 15th September, I was happy to know that I was among the short-listed candidates. It reminded me of the same feeling I had when I first applied for my job. I wanted to be selected because I was interested in the field. On 27th September, I was informed that I had been selected as one of the Research Fellows. I was overjoyed. It was evident that God is good.
I was pleased and proud of myself for being a Research Fellow of the Myanmar Fellowship Program. Then again, I grew wary when I thought of leaving my daughter behind. Departing from Buarpui, my daughter told me constantly not to worry about her but to take care of myself.  From there, I started my second lonely journey to the capital city, Aizawl.
In October 2022, myself and four other research fellows met the Deputy Director and the learning facilitator at the ICA office in Aizawl. The Chin Research Centre was formally opened in the compounds of Mizoram University. It is possible that the Spring Revolution created a historical milestone between the ICA and Mizoram University.
We had the opportunity to learn from the professors and associate professors of MZU and to write research papers. I'm grateful to the responsible persons of ICA, our group leader who paid attention to every detail, and the learning facilitator, for not only providing knowledge but for supporting the livelihood of someone living with uncertainty in a foreign land.
My ambition is to prepare a thesis paper that will enable us to implement a credit transfer, in addition to finding a way to have dialogue and collaborate on how to overcome the challenges of educational opportunities for refugee children. I aim to continue my tasks of the Spring Revolution as a researcher preparing research papers for the interest of the community and our people.
Starting from Spring, how far do I have to walk on this journey? It is grueling to predict when this journey will end. I hope it will not take long. Another spring will come along with the sweet, lamenting, cooing sound of cuckoos. I have to nurture the victory plant embedded in my heart to welcome the triumphant spring. There will also be light after darkness.
If the opportunity avails in peaceful times after the Spring Revolution prevails, I will create a good educational environment while sharing the knowledge earned through this program with my colleagues and students.
Zoheisa (pseudonym) is a CDMer from the Higher Education Department. She is one of the Myanmar Research Fellows at the Institute of Chin Affairs and Mizoram University.
Artwork Credit: Zack Fronicz